DH and I went in for our second ultrasound this morning and got to see The Kid waving at us and his/her heart flickering away at 167BPM. The tech said that everything looked really good and even that I'm measuring three days ahead. He said since it was so close, though, that they would leave my EDD at July 2nd.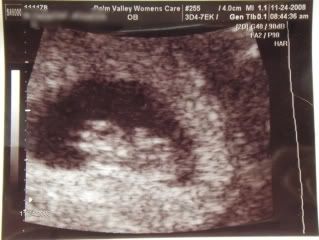 See the little arm? S/he was waving at us ; )
After the u/s, I left DH in the waiting room and went back for my first exam. I so hate these! The doc came in... followed by three other people! He asked me if I would mind

another doctor doing the exam; nope, no problem. Then he asked if it would be
ok
to have a new doc (an intern?) in the room to observe. I understand the importance of a teaching practice, but it was too many people for me, I was feeling a little overwhelmed. I told him no. The intern didn't seem to mind, he just turned around and left. I felt kind of bad after, but I figure that I needed to be as comfortable as possible in an uncomfortable situation. Maybe next time. Sorry dude!
All in all, a great appointment. And now that we've seen the heartbeat, I know I will feel much better about telling the
Fam
at Thanksgiving on Thursday.