Don't really have anything new to report on. Belly looks pretty much the same as it did last week. Kicks are felt often. And we're on the hunt for our ever elusive crib. Other than that... I got nothin'

So here's my 19 week (is that right? 19 freakin' weeks?! Holy crap!) belly pic! Enjoy!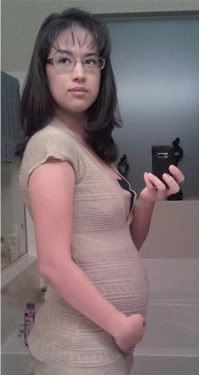 Couldn't do the bare belly shot this morning, pants are pre-preg and the hair tie holding them up is not cute.